Airport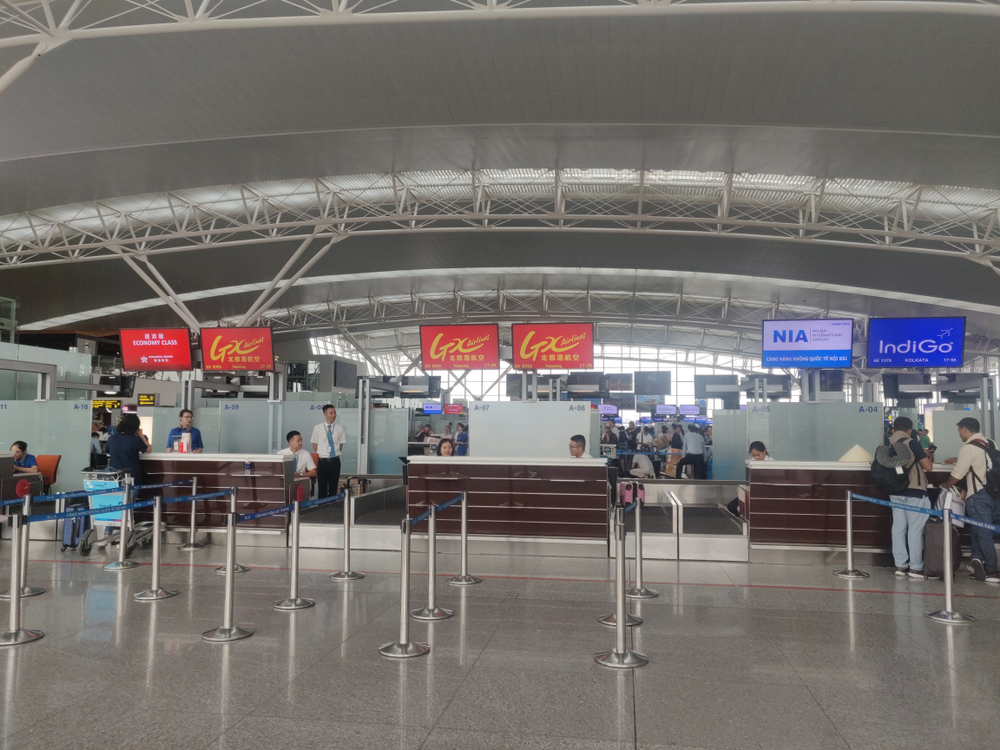 Hanoi
Nội Bài

International Airport (HAN)

No Bai Airport is located 22 miles (35 km) north of Hanoi.

Transportation to City Center

Vietnam Airlines runs shuttle buses to downtown. Buses cost US$5 and take approximately 45 minutes. Purchase tickets inside the terminal at the Vietnam Airlines booth and wait for the buses in the arrivals area. The buses leave when completely full, so anticipate a wait.


Taxi


Taxis are the most convenient option into Hanoi. The official taxi fare is US$10. Pay the fare in advance at one of the stands, there is one inside and one outside of the terminal. You will then be directed to the next taxi. Official taxis are plentiful, or you can call from inside the terminal, tel: (4) 825-4250. Avoid unofficial taxi drivers waiting at the gates or inside the terminal, as they often overcharge.

For a more luxurious ride, hire a car and driver at the airport. A private air-conditioned car and driver costs between US$25 and US$60 per day. Negotiate the daily rate with the drivers, waiting outside of the arrivals area, before boarding the vehicle. 


Car Rental


It is not possible to rent a self-drive car in Vietnam. You can, however, rent a car with driver (see above), or rent a motorbike from your hotel.


Amenities


Airport facilities include a small shop, snack bars, and a currency exchange booth.

Contact Information


Nội Bài International Airport
Hanoi, Vietnam
NASCO, Soc Son District, Hanoi, 10.000
Tel: [84] (4) 827-1513,826-8522, 886-5060
Fax: [84] (4) 825-9222, 886-5059
Email: nasco-khkd@fpt.vn

Ho Chi Minh City

Tan Son Nhat International Airport (SGN)
Tan Son Nhat Airport (SGN) is located 4 miles (7 km) northwest of Ho Chi Minh City.
Transportation to City Center
Shuttle
The least expensive option to reach downtown is to take a complimentary hotel shuttle bus. Offered by most mid-size and large hotels, the drivers will meet you in the arrivals area. Shuttles take approximately 15 minutes to reach downtown, and one is advised to arrange a shuttle prior to arrival.

Taxi

Taxis are the only other reliable transportation into the city. Some taxis are metered, but it is best to confirm the approximate price, between US$5-10, prior to your departure from the airport. Taxis are plentiful and will either meet passengers at the gate, or they will wait outside the arrivals area. Taxis take between 10 and 20 minutes, depending on the traffic, to reach Ho Chi Minh City.  Airport taxi: (8) 446-666.

For a more luxurious ride, hire a car and driver at the airport. A private air-conditioned car and driver costs between US$25 and US$60 per day. Negotiate the daily rate with the drivers, waiting outside of the arrivals area, before boarding the vehicle. 

Car Rental

Self-drive rental cars are not available in Vietnam. You can, however, rent a car with driver (see above) or rent a motorbike from your hotel.

Amenities

Airport facilities include a currency exchange booth, one duty-free store, a small snack bar, and several shops. 

Contact Information

Tan Son Nhat Int´l Airport (Saigon Airport)
Ho Chi Minh City, Vietnam
Southern Airport Service Company
Tan Binh District
Tel: [84] (8) 844-8358, 844-6587
Fax: [84] (8) 844-7812
Web: www.saigonairport.com
Email: sasco@saigonairport.com
BACK TO TOP