Restricted and Prohibited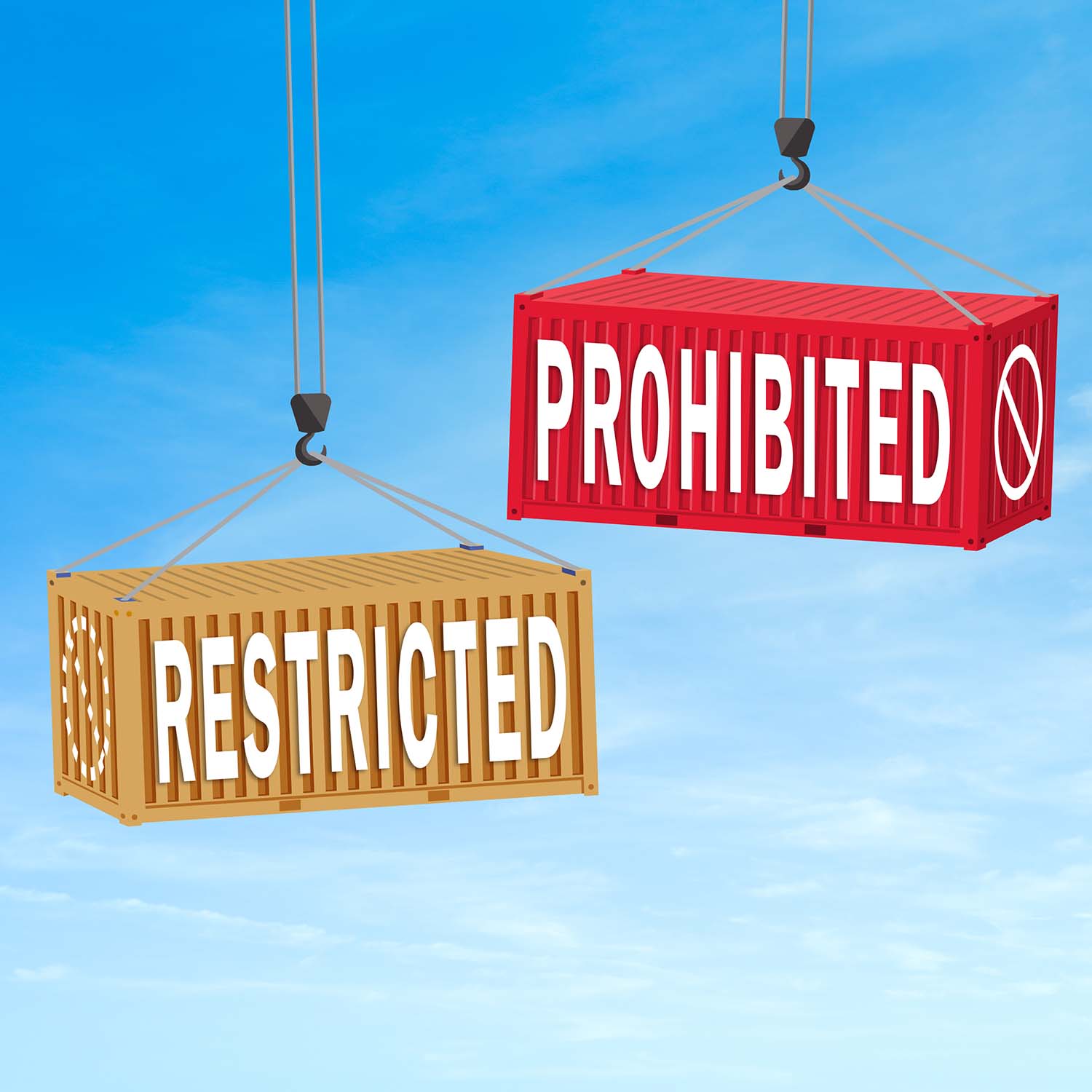 Restrictions and Prohibitions
All countries restrict or prohibit the import and export of certain articles based upon:
Concerns for health, safety, and public morality (e.g., foodstuffs, agricultural products, live animals, biologic materials, pharmaceuticals, illicit drugs, chemicals, hazardous products, and materials deemed indecent).
Protection of the physical and economic security of the state (e.g., arms, armaments, dual-use technology, radio and television transmitters and receivers, radioactive materials, seditious materials, and currency).
Economic protection or subsidization of domestic industry (e.g., non-tariff barriers to trade for imports and control of natural resources for exports).
Enforcement of provisions of multi-lateral trade agreements (e.g., those designed to protect endangered and threatened species of animals and plants and those designed to protect copyright, patent, and trademark holders against infringement).
Restricted
Black and white Portland cement
Plain glass of thickness between 1.5 mm and 12 mm
Light brown glass of thickness between 5 mm and 12 mm; and blue glass of thickness between 3 mm and 6 mm
Some types of round bars, T-iron or L-iron
Some types of steel for welding
Some types of steel plates and galvanized steel
Some types of liquid refined vegetable oils
Refined and raw sugar
Some motorcycles, motor tricycles, and part or kits to make them
New passenger vehicles of 9 seats or fewer, including passenger-cargo vehicles and joint passenger-cargo compartmental vehicles
Goods whose export from specific countries is controlled under international treaties to which Vietnam is party
Veterinary medicines and materials for making veterinary medicines
Biological products for veterinary use
Pesticides and materials for making pesticides
Plant and animal strains, and various types of insects
Animal feed and materials for producing animal feed
Fertilizers new to Vietnam
Plant and animal gene sources; micro-organisms for scientific and technical research and exchange
Subject to Import Stamp
The following articles must be stamped upon import. They are cleared only after the owner has stamped the whole consignment with the import stamp required by Customs.
Alcohol in bottles (including pots and jars)
Bicycles in complete units
Electric fans of all kinds
Television sets in complete units
Videocassette players in complete units
Refrigerators in complete units for home use
Independently operated air-conditioners (secondhand and brand new)
Motors
Ceramic sanitary ware: toilet bowls, washbasins
Tiles of all kinds, in package
Electric water pumps of all kinds
Gas stoves of all kinds
Electric cookers of all kinds
Bicycle frames
Thermal and cold flasks and inner receptacles
Motors together with working machines to form complete and synchronous units
Prohibited
Weapons, ammunition, explosive materials (except explosive materials for specified industrial purposes)
Military technical equipment and facilities
Narcotics
Toxic chemicals
Cultural products considered to be depraved and reactionary; toys for children which are harmful to ethical education, social order, and safety
Firecrackers, except for signal fires for the purpose of maritime safety and other specified purposes 
Cigarettes, cigars and other finished cigarette products
Means of transport with right-hand drive (including those in knock-down kits or with converted drive before being imported to Vietnam), except for special vehicles for limited use, comprising cranes, duct-digging excavators, garbage-carrying vehicles, road-cleaning vehicles, road-surface building vehicles, airport-passenger vehicles, fork-lifts in warehouses or ports

Textiles, garments and footwear
Electronics
Freezers, refrigerators and air conditioners
Household electrical appliances
Goods for interior decorating
Household goods made of ceramics, porcelain, glass, metal, plastic, rubber and other materials
bicycles, motorcycles, and motorized tricycles
Motors, frames, tires, pneumatics and spare parts for automobiles, tractors, motorcycles and motorized tricycles
Combustion engines with a capacity of 30 CV and less; and used machines mounted with combustible motors with capacity of 30 CV
Chasses mounted with second-hand motors
Ambulances
Passenger-vehicles of 16 seats or fewer, including passenger-cargo vehicles, and joint passenger-cargo compartmental vehicles
Trucks of less than five tons (including passenger-cargo vehicles, and joint passenger-cargo compartmental vehicles) which have been used for more than five years from the year of proposed import
Various types of special encryption devices and encryption software used for protecting state secrets 
---
Note: The above information is subject to change. Importers are advised to obtain the most current information from a customs broker, freight forwarder, or the local customs authorities.
BACK TO TOP