Restricted and Prohibited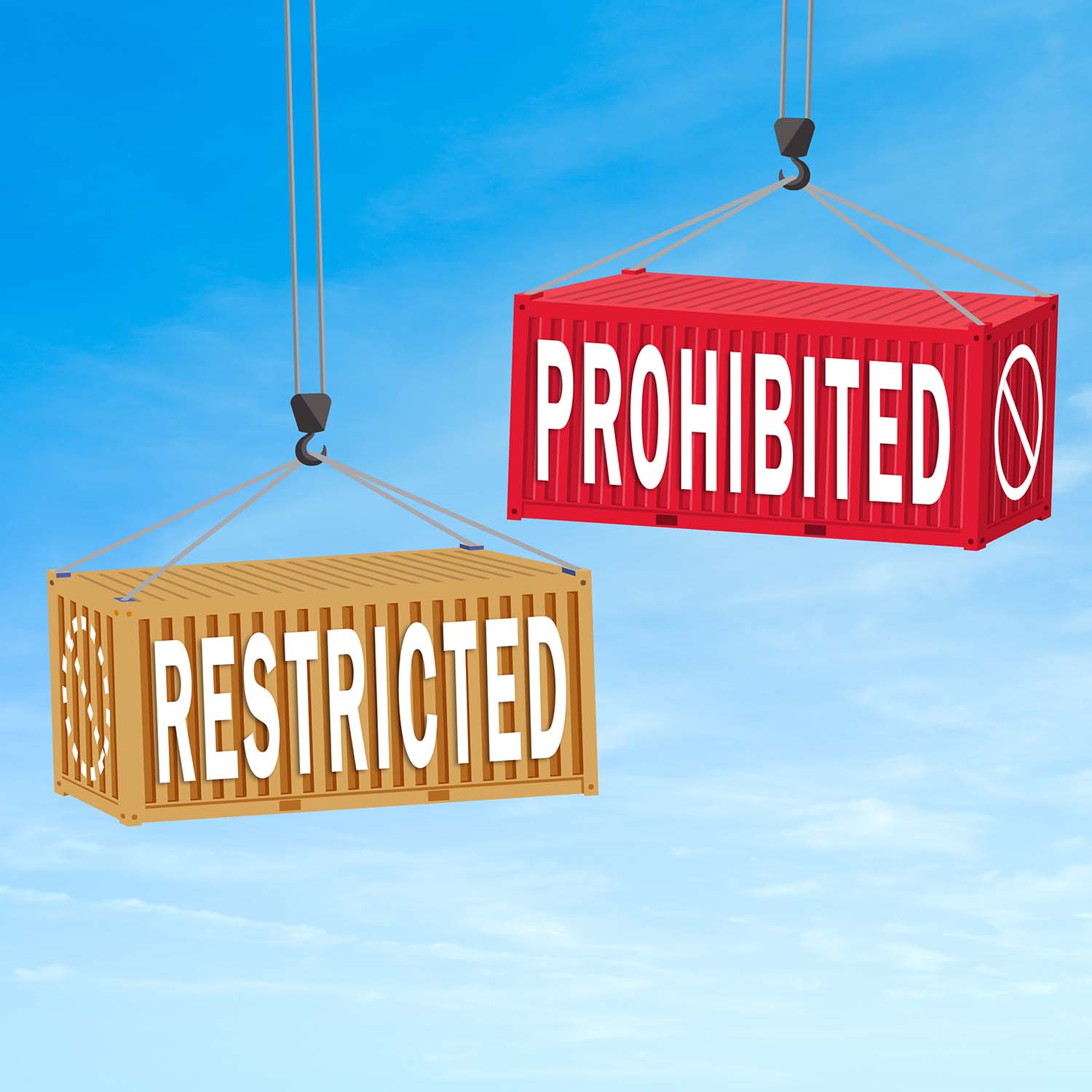 Restrictions and Prohibitions
All countries restrict or prohibit the import and export of certain articles based upon:
Concerns for health, safety, and public morality (e.g., foodstuffs, agricultural products, live animals, biologic materials, pharmaceuticals, illicit drugs, chemicals, hazardous products, and materials deemed indecent).
Protection of the physical and economic security of the state (e.g., arms, armaments, dual-use technology, radio and television transmitters and receivers, radioactive materials, seditious materials, and currency).
Economic protection or subsidization of domestic industry (e.g., non-tariff barriers to trade for imports and control of natural resources for exports).
Enforcement of provisions of multi-lateral trade agreements (e.g., those designed to protect endangered and threatened species of animals and plants and those designed to protect copyright, patent, and trademark holders against infringement).
Restricted
Textiles and garments under export quotas agreed with foreign countries as periodically announced by the Ministry of Industry and Trade
Goods whose export is controlled under international treaties which Vietnam has entered into or acceded to, as announced periodically by the Ministry of Industry and Trade
Certain textiles and garments, subject to export quotas
Rice, subject to export quota
Prohibited
Weapons, ammunition, explosive materials and military technical equipment and facilities
Antiques
Narcotics
Toxic chemicals
Timber, planks from domestic natural forests; firewood, charcoal made from wood or firewood of domestic natural forest origin
Various kinds of wild animals, and natural rare precious fauna and flora
Various types of special encryption devices and encryption software used for protecting state secrets
---
Note: The above information is subject to change. Exporters are advised to obtain the most current information from a customs broker, freight forwarder, or the local customs authorities.
BACK TO TOP